Today's online buyers look to do more than simply purchase—they seek an inspired, engaging, interactive experience that they can tailor to their own personal interests. And more and more buyers are looking online to get ideas, advice, and recommendations from sources they trust—whether those sources are sellers, experts, trendsetters, or friends.
Introduced last year, the eBay feed allows buyers to customize their eBay homepage. We've now introduced new features that take that customized, inspirational experience to a whole new level for buyers, and give you—our valued sellers—a set of powerful tools to tap into these buyers, promote your inventory, and expand your sales—including the possibility of being on the homepage!
Check out what's new on eBay
.
Create inspiring and engaging collections
of products to attract eager buyers who can purchase items right from your
collections
. Every one of your public collections can attract new buyers by showing up on the new eBay Today page, seen by millions of visitors daily. Your items may even be featured in others' collections!
Create your eBay profile as a central place to showcase your knowledge and expertise,
engage with your buyers and share your collections. Your profile is accessible by
every
eBay user, and a link to your
eBay profile
also shows up on your
followers'
profiles!
Buyers can follow you and your collections and have them show up in the eBay feed on their home page. Buyers who have already saved you as a favorite seller will automatically become your followers.
Cultivate more followers
—both on eBay and via social channels like Pinterest, Facebook and Twitter—with
top tips
.
Spotlight great inventory and your collections by updating your eBay Store.
Sellers will begin to have the option to
give their eBay Store a fresh new look
that's easy to share on social media.
All
sellers will have this option by the end of January 2014!
What is changing?
On the heels of last year's introduction of the customizable eBay feed on the homepage, eBay is introducing an exciting new suite of features to engage and inspire buyers and help sellers market their inventory:
Inspirational product collections from which buyers can make direct purchases
A new "Follow" button to allow buyers to stay engaged with their favorite collections, searches and sellers
A new eBay profile page to showcase your brand and attract buyers via a new streamlined design
eBay Today—an inspiring new experience showcasing hand-picked collections—will become the home page for eBay visitors who haven't registered or logged in
New look and features for eBay Stores, including featured items that you select
Why is eBay going in this direction?
Today's online buyers seek a customizable shopping experience that's engaging and interactive. eBay now provides that experience to buyers, and gives sellers like you the tools to highlight your products and engage with these buyers. We're committed to ensuring our sellers have the platform they need to thrive in this new world of commerce.
With these new features, you now have direct access to a built-in set of powerful marketing tools to inspire customer loyalty and help win new customers, as well as new opportunities for being featured throughout the eBay experience.
As a seller, am I required to do anything?
While you're not required to do anything as a result of this change, this is a great opportunity for sellers like you, thanks to a built-in set of powerful marketing tools that help you promote your inventory, win new customers, and inspire buyer loyalty—not to mention the possibility of being connected with more buyers that are interested in your products!
What does it mean to "follow"?
As buyers shop on eBay, they can choose to follow their favorite searches, hand-picked collections, and eBay members. Their home page will reflect what they follow by showcasing relevant items and updates. For example, when a user follows a seller, they'll see a link to the seller's profile in the left-hand navigation of their home page, and they may also see updates to their home page feed when the seller creates new collections or updates existing ones. The more that a user follows, the more great stuff they'll see in their feed. Unless made private, anything a member is following will be visible on their eBay profile. Note that any searches and sellers you've saved prior to this change will remain private. Learn about
customizing your privacy settings
.
When a buyer follows me or one of my collections, what will they see?
When a buyer follows one of your collections, they may see any updates you make to the followed collection in their eBay feed, as well as updates on new members that are following the collection. When a buyer follows you, they may see various updates in their feed, including any updates to your collections, your new followers, or new things you are following.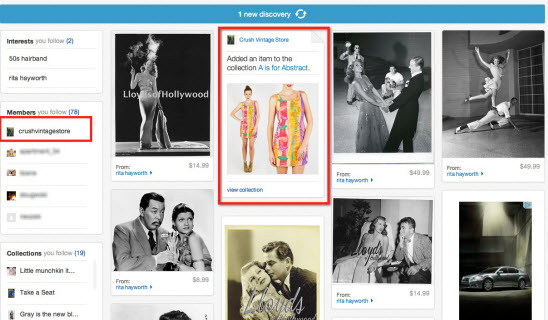 Your followers will NOT see activity such as what you are purchasing, watching, or bidding on. You can
customize what is visible to your followers
on your eBay profile. As we continue to innovate we will add other activities that are eligible to be shown to your followers via the eBay feed.
How do I get people to follow my collections?
Can I block people from following me?
You are not able to block people from following you.
Can I make what I'm following private so others can't see what I'm following?
If I mark a member I'm following as 'private', will they know I'm following them? Will others be able to see on my profile that I'm following that person?
No. When you
mark a member you are following as private
, the other member will not know you are following them, and other people will not see it on your profile. Additionally, if someone follows you and marks it as private, you will not know that they are following you.
How many people, collections, or searches can I follow?
You can follow up to 100 collections, up to 100 searches and up to 100 members.
How do I unfollow a collection, eBay member or search?
Whenever you click on the button to follow a collection, search or member, the button will change from 'Follow' to 'Unfollow'. Simply click on the 'Unfollow' button to stop following and that collection, member or search will no longer be used as a source for your eBay feed on the home page.

What has happened to the 'Save search' option?
The existing 'Save search' option has been renamed as 'Follow this search'. While you can still find all your saved searches on My eBay, you can also see if you're following a search on your new profile page under 'Interests,' and unfollow it without navigating to My eBay. If you've opted to receive email alerts for your saved searches, you will continue to receive them. Also note that renaming or replacing an existing saved search will no longer be supported.
What has happened to the 'Save this seller' option?
The 'Save this seller' option has been changed to 'Follow this seller'. Any sellers you've saved in the past will now appear as 'members' you follow in this new experience. Note that sellers you'd previously saved will be set to 'private'.
Is anything changing about my Watch List?
What will happen to my existing Saved Searches?
Your saved searches will continue to be available in My eBay and you can edit the search as needed with the exception of any notes that you may have included. In the months ahead, we will move your existing saved searches so they'll also show on your profile in the "Following" section. It should be noted that searches you follow are private by default and only visible to you unless you choose to make them public. Updates from the searches you follow will appear in your eBay feed on your home page.
What happened to the buyers that already have me as a saved seller?
In the months ahead, we will move existing saved seller information into users profiles so anyone that has previously saved you as a seller (or added you as a Favorite) are now following you. We are making any previous saved activity private, so—until they have chosen to make it public—you won't be able to see these members in your total number of followers or list of followers in your profile.
Note that the number of followers shown in your eBay profile only reflects those that have chosen to make following you public.
How is eBay going to recommend eBay members or interests to follow?
We look at a large number of factors to help us identify a user's interests, based on their past activity on eBay. We'll use these factors to recommend members, collections and interests for the user to follow on the eBay feed on their home page. As a seller, know that the more followers you or your collections have—and the more active you are—the more likely you are to be recommended!
Is this new experience available on mobile devices?
The experience has been optimized for viewing on mobile tablet devices. This experience is not currently available on eBay's mobile app or on mobile-optimized eBay pages, but you can view the experience via your mobile device by selecting the "Classic site" option located at the bottom of the home page. Also note that any sellers a user has saved via their mobile phone or app will be reflected as something they're following on their eBay profile.