The number of buyers making purchases online is rising and so are their expectations for shipping, handling, and delivery time. And these buyers want to know their items ship promptly. It's a big reason why sellers who offer quick handling continue to win new sales. And, when you offer 1-day or same-day handling—and tracking data shows your shipment arrives within four business days—you'll earn an automatic 5-star rating for ship time.

To attract more buyers and stay competitive, many online merchants now offer same-day handling ("Orders received by 2:00 PM are shipped the same day!"). If you're able to offer same-business-day handling, let buyers know about your outstanding service by specifying same-day handling and your order cut-off time so they know when to expect their items. Plus, offering same-day handling can give you a boost in sales and increases your chances of your listings getting the Fast-n-Free symbol, which can increase sales by up to 11%*.
It's easy to add same-day handling and order cut-off times to your listings
Select same-day from the handling time options when you list, for items that can be packaged and shipped the same day you receive the order. Add it to all your listings at once, or when you relist or revise, using the bulk edit and relist tool.
Specify an exact order cut-off time for your items in the shipping preferences section of My eBay. Buyers can clearly see your order cut-off time, which will be used along with your handling time and shipping service information to provide more accurate—and competitive—delivery estimates. If you don't specify a cut-off time, the default cut-off time will be set to 2:00 PM Pacific Time for eBay.com.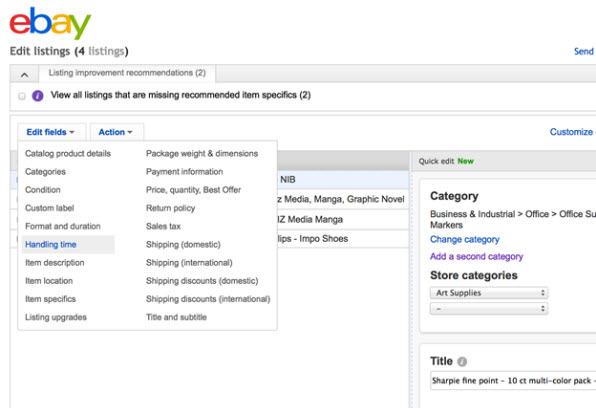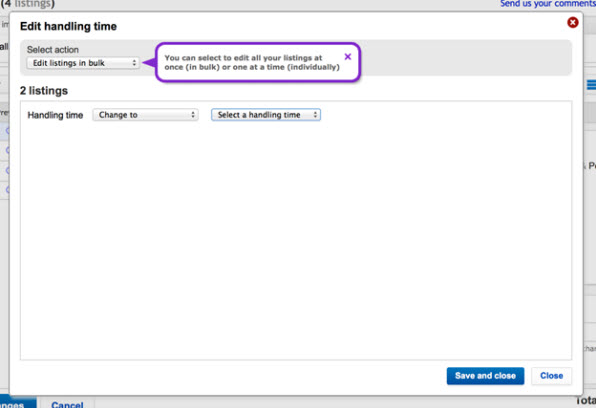 Now you can specify same-day handling in your shipping details as you list.
From your Shipping preferences in My eBay, you can specify your order cut-off time for handling.