Offering shipping discounts is a great way to boost your order size and attract loyal buyers. But if you depend on your listing description to get the word out,
you may be losing sales
. Buyers may not see your offer or understand that they now have to add your items to their shopping cart and request a new invoice to get the discount. And many buyers want to complete their purchase immediately instead of waiting for a revised invoice. This is especially important now that most fixed price items are not considered "sold"—and remain available to other shoppers—
until the buyer pays
.
To make sure all buyers can easily take advantage of your combined shipping discounts, set your Combined Payments and Shipping Discounts preferences in My eBay and apply them when listing your items. That way, your discounts will be applied automatically during checkout and eager buyers can pay immediately—no need to request and wait for a revised invoice.
Now, when you set up a free shipping offer for orders of a certain size—for example, free shipping with orders over $99 or free shipping with orders of 3 or more items—buyers see your offer prominently displayed on your item page, right along with your other eligible items. That makes it easy and enticing for them to drop another item or two into their shopping cart. Your free shipping offer is applied automatically and they can check out and pay immediately.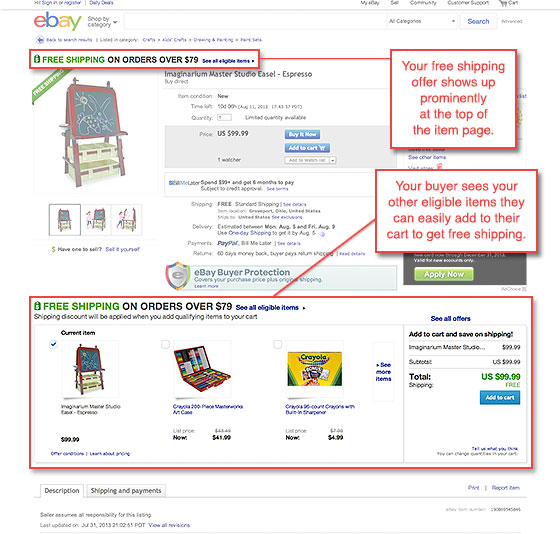 Setting up your free shipping offer is easy. Just go to your Combined Payments and Shipping Discounts preferences in My eBay to set up the terms of your offer. For example, Spend $75 on 2 or more items and shipping is free! Then apply the discount to the items of your choice, right when you're listing.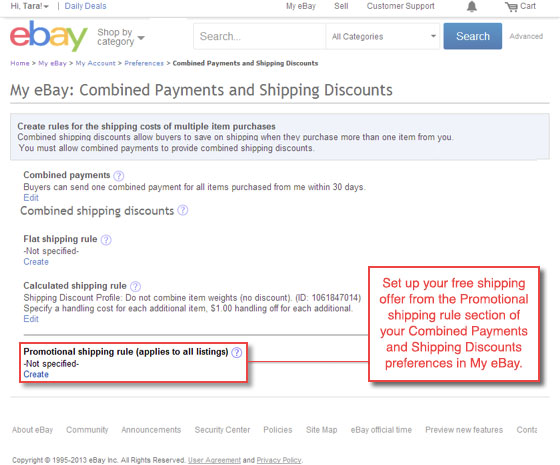 If offering free shipping is not an option for your business, you can also set up other kinds of sales-boosting shipping discount offers from your Shipping Discount Preferences.
These other offers won't give you the prominent message at the top of your item page or display your other items, but they will get applied automatically in checkout so your buyer doesn't have to wait for an invoice. That alone should get you more sales.
Learn more
about how to create shipping discounts and rules for discounts.
Don't wait—if you're depending solely on your item description to promote your discounts, you could be losing sales. Set up your discounts from your Shipping Discount preferences in My eBay now!